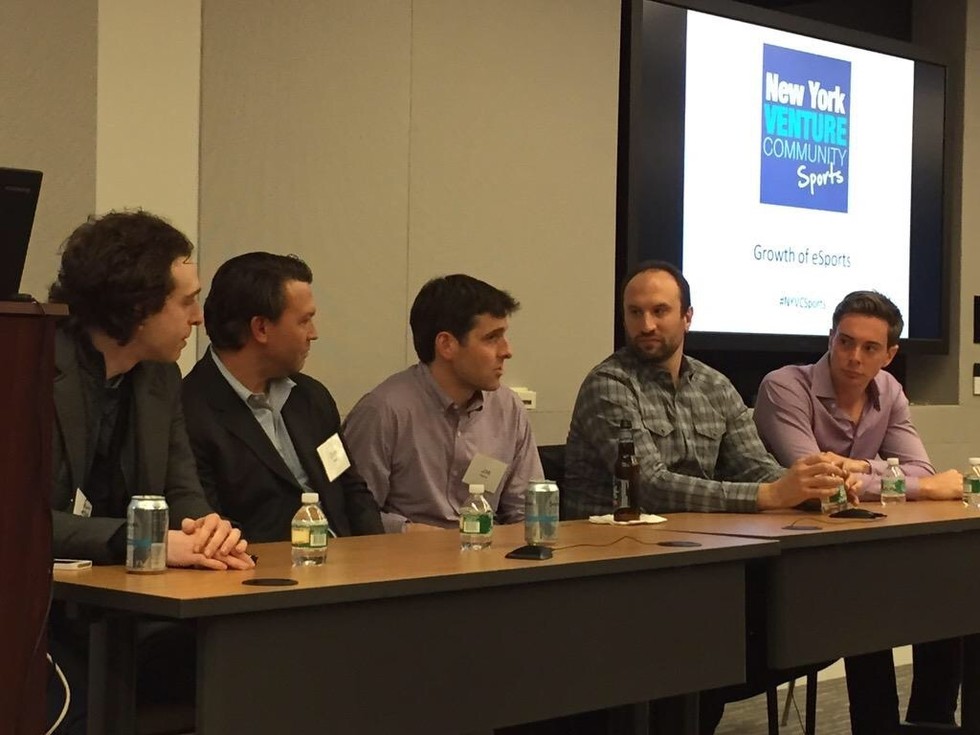 The Future of Sports is Electronic
Published 01 April 2015
A few years ago, NYVC Sports was launched with the support of representatives from every professional sports league in the US. Cofounders Jeff Volk from MLB Advanced Media and Deepen Parikh from Interplay Ventures wanted to bring together entrepreneurs within the New York community to help drive innovation in sports.
Last night, I participated in an NYVC Sports panel that symbolizes the recognition of the most innovative entrant to the sports landscape, eSports. Rod Breslau (@Slasher), former professional gamer turned reporter, led a panel including representatives from ESL Gaming, which sellouts stadiums all over the world for competitive gaming tournaments, Major League Gaming, the longest running eSports league in North America, and Twitch, the dominant video portal for gaming content with over 100M monthly uniques, which was bought by Amazon for $1 billion last year. Below are some of the highlights from the panel.
eSports Dominates Online Video
The panel shared some incredible stats on this emerging industry. Vice recently produced an enlightening series on eSports around the biggest competitive gaming tournament, the League of Legends World Championship. The event has drawn as many as 32 million viewers. Compare that to 26 million for the BCS National Championship and Game 7 of the NBA Finals, 16 million for the Final Four, and 15 million for the World Series (source: Qwilt). Large competitive gaming tournaments are being held in stadiums all over the world and selling out to tens of thousands of attendees in minutes, with millions more that watch online.
Sports remains one of the best content formats for advertising given the value of live programming, and eSports is far and away the most watched sports category online, where the most valuable demos have been shifting their consumption. According to Qwilt, Twitch is the largest live streaming site in the US, generating a staggering 44% of all live streaming traffic, vs. 7.2% by MLBAM and 6.3% by ESPN.
Traditional Sports Culture with a Social Edge
Just like any other major sport, eSports has players, teams, coaches, leagues, commentators, and crazy fans, especially in Asia. Gaming has already begun to escape nerd stigma in Asian markets, where screaming fans, guys and girls alike, proudly wear team paraphernila and line up for photos with the pro players and cosplay characters, the cheerleader equivalent for eSports. Star teams and players build massive followings across highly social channels. Accessibility, including the ability to chat with players as they are effectively on the field of play, is giving eSports professionals the same kind of intimate edge that Youtube celebrities enjoy over their Hollywood counterparts. Fans can't connect with LeBron James or Ronaldo in the same way they can with eSports stars.
Content Rights are in the Wild West Stage
There is no clear leader amongst the eSports leagues. Just as in the evolution of other professional sports, the landscape is fragmented, with emerging teams and players looking to protect their rights, and publishers looking to maximize the value of their IP. eSports today is still dominated by hard core games that take players into fantasy worlds. Traditional sports games and more casual categories have yet to emerge but that is likely to change over time. Some of the leading hard core game publishers, many of which have tens of millions of users, have recognized the value of competitive gaming and are emphasizing eSports, often with the help of partners who specialize in live events. The lack of clarity around player and publisher rights is likely to drive consolidation of power over the long term with massive value creation for the industry participants that come out on top.
Growth Opportunities
With an enormous and rapidly growing audience for gaming video online, it is clear that significant advertising budgets will shift into this category over the long term. Twitch has the dominant portal today but faces plenty of competition, including Youtube, which is rumored to be making a big push into live streaming with gaming at the core. There are a slew of other players including Major League Gaming, Unity's Everyplay, Azubu, and a number of newer, mobile-first portals.
Additional business opportunities that are emerging, as they did for other sports in their nascency, include merchandising (both physical and digital), amateur leagues, fantasy, and gambling.
There is no longer a question as to whether eSports is a viable sports category. The only question is how big can it be?